Poker Tips, Bankroll Management and More (PART 10)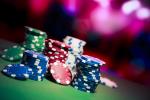 Welcome mobsters, if you are reading this blog for the very first time, I thank you for your initial interest. I think that if you give it a little time, you will find something that will peak your interest.
I am a semi-pro poker player and an author. I am currently working on several projects for publication, and will be discussing them on occasion in this blog. If you are a fan then I warn you, from time to time there will be spoiler book ideas discussed.
Section 1: Poker Tips & […]
Link to article: www.bankrollmob.com/poker-news/201437/poker-tips-bankroll-management-more-part-10/rss